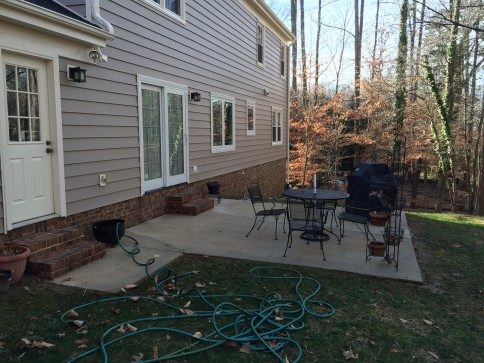 Mark cleaned and pressure washed my house paying particular attention to the trim. He also cleaned and pressure washed my front driveway, walkway, stoop, and rear patio. He moved our patio furniture and was careful as he did so.
"Clean as a whistle"…that's about sums it up in a nutshell.
Seriously, Mark spent the better part of 3 1/2 hours making my house look almost new again.
We had the house vinyl sided and trimmed 3 years ago. We hadn't cleaned it since. For the most part, the vinyl siding (clay color) looked ok but the trim (white color) had mildewed terribly. The trim was around each window, along the roof line, and around the door frame. It was almost black in some places. The front concrete driveway, walkway, and stoop were filthy. The concrete back patio was approaching black in color as it is shaded most of the time.
Mark applied a cleaning solution. He applied extra cleaning solution to the worst areas. After the cleaning solution was applied, he let it set for a few minutes, and then rinsed it off. He rinsed each area of the house several times. He was very meticulous in this process and the end result proves this.
The price of his service is very reasonable and Mark is very personable.
I would certainly use his services again and have no problem nominating him for a Page of Happiness inclusion. -DAVID & BRIGITTE H.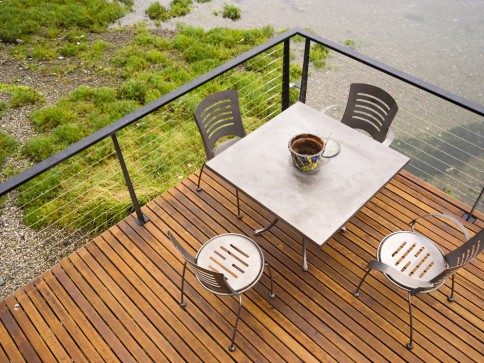 Mark came out to the house on the morning that I called him to do an estimate. I was not at home but he spoke with my wife. He expressed some concern about the condition of the aluminum siding which gave me the impression that he took some time to evaluate the job thoroughly. I got some other estimates which all seemed high to me. Even his estimate of $450 seemed high although it was probably an industry standard . One outfit was charging almost $600 for the job and they didn't even come out to look at it. They were even going to charge me $7 just to make the trip. That just struck me as petty. I got another esitmate from one other outfit that was considerably lower but I chose to go with Mark because he took the time to look at the little details. We agreed that he would come out on a Tuesday to start the work. Since he was working alone he said he wouldn't finish until Wednesday. That is exactly the way it played out. Mark did a great job on both the house and driveway. I've never seen the house looking better. Mark did not disappoint me in any way and I wouldn't hesitate to use him again. Excellent experience.

We take great pride in providing quality pressure washing & concrete restoration services in Charlotte, NC & surrounding communities
CHECK OUT OUR AMAZING REVIEWS
I'll recommend Mark to anyone who asks. Price was fair, he showed up on time, and left no trace behind except for my exceptionally clean driveway and siding.

justin brown


1/15/2020

Mark has done work for us several times. We recommend him to friends and neighbors. Excellent work, prompt and courteous.

Karen Justice


4/02/2019

Excellent service! I definitely recommend his service. Professional, fast, reasonably priced and efficient!

Tywonda Meaders


6/19/2019

Nice job today! Will definitely use Mark again. Thank you!

Linda Roberts


6/22/2019

Mark was prompt and was able to come look at our driveway and chimney the same day. He did a great job cleaning the driveway and removing the build up from the chimney. Would definitely recommend him to others. He was affordable and easy to communicate with.

Julia Harker


8/27/2018

Mark was amazing, he not only did my driveway, walkway and house siding but I asked him last minute to do the deck and he did that along with all the outdoor furniture! I'd definitely recommend using pro pressure clean for any pressure washing needs.

Amanda Weber


1/22/2020

Excellent service!! My house looks brand new again! I will use this service again for sure!

Tia Johnson


3/29/2019